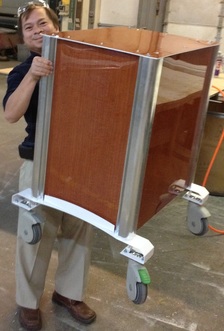 Nu-Tran was founded by Chanh Nguyen, a Vietnamese immigrant with a passion for manufacturing. He was exposed to hand crafting furniture at the young age of 9. He came to the U.S in 1990 with the American dream on his mind - the freedom to learn and make a difference not just for himself, but for many others around him. Chanh and his passion for crafting landed in Grand Rapids, Michigan, known as the "Furniture Capital". It was his destiny to choose to start his career in the furniture industry. With big goals set and the determination to fulfill his dreams, Chanh completed 6 years of extensive education. He landed his first job at an OEM office furniture supplier that serviced West Michigan. His first job title was production engineer. His duties included improving productivity within the machining department and working with various sized companies including Steelcase, Haworth, and Herman Miller.
Utilizing his love for hands-on manufacturing along with hard work and experience, Chanh's effort showed great results. He began to earn one promotion after another. In his 25 years in the furniture and storage solutions industry, Chanh has held 3 vice president of manufacturing positions and 2 director positions in which he successfully facilitated the start-up of 2 sustainable companies. In his first 7 years serving as a production manager, he help build the company from little to nothing in revenue all the way up to $18 million annually! He then continued to help 2 small companies start-up and reach over $1 million each in revenue within a one year period. His accomplishments didn't end there. Chanh then accepted a challenge from the owners of a fourth company. His responsibility was to increase their annual revenue by 25% each year. The end result of his work there was a revenue increase from $10 million to $28 million in 8 years. This set up a great track record which led to a Wall Street company purchasing the business. His loyalty and good work ethic has allowed him to be successful at each company where he has been employed at.
In 2009, Chanh felt confident enough with his accomplishments and experience to venture out on his own to pursue his dream, Nu-Tran. The first part of the company name, Nu, stands for a new way of thinking while Tran stands for transformation. (Also a combination of Chanh's and his wife's name!) He observed many great companies that revolutionized the world during a time of economic hardship. He turned to people such as Tim Brown, Henry Ford, and Steve Jobs for inspiration to create innovative designs. Chanh examined their tactics and observed key points such as:
Tim Brown designed products with the purpose of putting the needs of the end user first and improving individual's lives and society as a whole.
Henry Ford advanced the manufacturing process that allowed his product to be affordable to more people.
Steve Jobs created simplistic and user-friendly products that made it easier for people who owned them.
Despite the pressure of economic hardship during the recession when many businesses were forced to shut down, Chanh decided that he wouldn't let anything interfere with his plans. Chanh believed that customers will rely on your products or services no matter what, if the foundation of the business is built on these three principles:
Place the needs of the customer first.
Improve the manufacturing process to the best of our ability.
Serve the customers by offering options nobody else can.
With a concrete foundation of principles set, Chanh polled his personal resources. He was willing to take the risk to pursue his own business with the ambition of creating new jobs. Serving others has always been the main motivation to handle the obstacles that come with starting a new business. Whether it be big or small, he wanted to make a positve impact on the lives of others. A favorite phrase of his is, "If you think you're too small to make an impact, try sleeping with a mosquito!"